Let your pet roam freely in your yard without worrying about them escaping.

You might have a little yard. Nonetheless, this does not obligate you to keep your pet on a short leash. Your dog or cat may play right up to the boundary of your property thanks to Wireless Plus technology. The wireless dog fence is the ideal solution for small spaces or irregularly shaped lots since it has an adjustable operational distance of 500m, 60% more distance than typical wireless dog fences. So, unwind. Make the most of your (not so square) yard space by letting your pet.
Portable

Waterproof

Rechargeable Dog Collar

TPU Reflective Material

Effective & Harmless Working Mode

Suitable For Small/Medium/Large Dogs
Millions of dogs are killed on the roads each year because cars simply don't see them. Make sure to keep them safe and confined to your desired range with the Wireless Dog Fence System
FEATURES AND PROPERTIES
Smart Training System: The wireless dog fence will vibrate to warn the dog to go back to a safe area when it crosses the signal border. The collar will discharge an electric shock if the dog doesn't return to the transmitter. The vibration and electric shocks will be administered once again if the dog proceeds. Your dog will quickly figure out how far it can wander.
Cost-Effective: Concerning building a fence, don't worry! Your dog can learn new skills using our Invisible Dog Fence Training System for a much-reduced cost.
Fully wireless system and extra-large dog wireless fencing
Dog Wireless Fencing System: Using the transmitter as the centre, the maximum distance that may be controlled is 500 metres. The receiver should be placed between 20 and 500 metres from the transmitter, whose signal intensity can be regulated from 0 to 100 levels.
OFF-Leash Training:Teach your pet off-leash in roughly 14 days! This electric dog fence is safe for everyone who enters your yard and works brilliantly on canines that are difficult to teach or stubborn. The wireless dog fence operates by sending a little amount of static correction to your pet's neck through two contact points.
Suits most dog sizes: The wireless dog fence system is suitable for pets of all sizes and for both fenced and unfenced yards. An electric dog fence's adjustable collar allows you to customise the fit for your pet. Waterproof, rechargeable, and long-lasting receiving collar.
A risk-free method of dog training: The electric dog fence's static correction is gentle and entirely customizable. Five increasing levels of correction enable you to train swiftly but gently. This Wireless Dog Fence is safe for your pet.
Pet fence system has two functions: an LED display, a wireless fence for your pet, and a remote control sound vibration shock trainer.
Easy Installation: Set up your new wireless fence in about 1-2 hours to provide a safe play area for your dog.
FAQ's
1) Does it fit tiny dogs or dogs with hair?
Any size can wear the collar with ease. Simply modify the strap's length to match the size of your dog's neck. The collar can precisely fit your dog's neck, whether it is hairy or short. Just affix the prong extender to your beloved friend's collar so that it extends to their neck.
2) How long does the receiver's charge last?
Ten hours or so are spent charging. Keep in mind that the collar tends to turn off if there is a lot of metal nearby.
3) Can both square and rectangular yards use the system?
The collar is effective in all sorts of yards and terrain. Despite hills or slopes in your yard, the transmitter
4) If mounted inside, does the house become an obstacle or block the transmitter?
No, your house will not interfere with the signal. The built-in signal can even go through thick foliage and other items such as concrete and wooden walls. The signal penetrates obstacles easily ensuring a constant signal to the collar. This does not require WiFi or cellphone service to achieve. Turn on and pair, you're ready to go. 
HOW TO USE 
Plan Your Layout
Install and Test your system
Lace the collar on your dogs and find the right stimulation level.
Train your dog in short sessions during the next two weeks.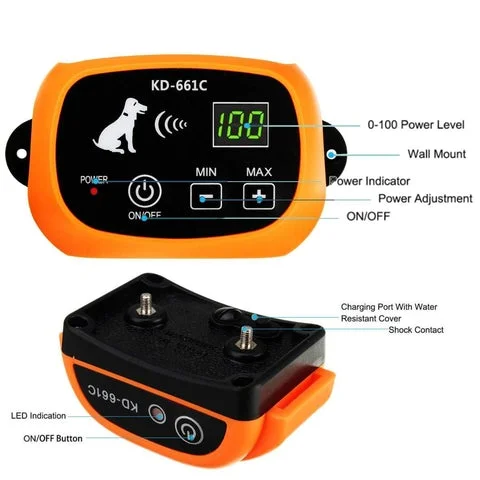 The electric pet invisible fence system is one of the most reliable and safest wireless fences.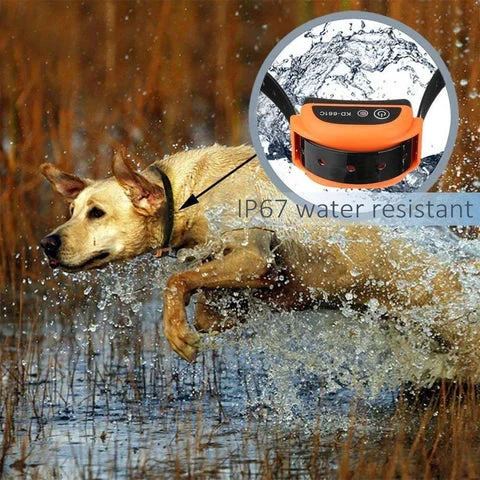 Wireless Rechargeable 1/2/3 Dog System Fence No-Wire Pet Containment System Waterproof Rechargeable Wireless Pet Fence
 Works everywhere – Transmitter and collar are both rechargeables. You can easily take the wireless fence system along on a weekend trip and use it in an unfamiliar location for your pet.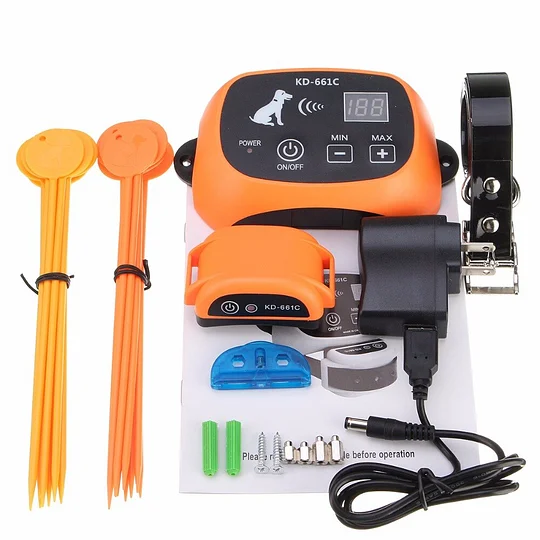 PACKAGE INCLUDED
1 x Transmitter (Built-in rechargeable lithium battery)

1/2/3 x Collar Receiver (Built-in rechargeable lithium battery)

1/2/3 x Test Light Tool

4 x Screws

1 x User's Manual English)

1 x Charger

1/2/3 x Strap

4/8/12 x Metal Probes

20 x Flag

   
SHIPPING INFORMATION
Domestic Shipping (UNITED STATES):
Your order will be packaged and shipped within 1-2 days of ordering. Tracking info will be emailed to you once the order has been shipped. Shipping will take 3-5 days. 
OUR GUARANTEE:
We believe our products can help people's everyday lives, and we fully stand by our products. We offer a risk-free 30-day guarantee on all our products. If you don't have a great experience, we will ensure you are satisfied with your purchase. We also offer a 1-year free breakdown warranty on our products.